Prepared meals & Foodboxes
Let us take care of your meals, so you can relax and have fun without worrying about cooking or shopping.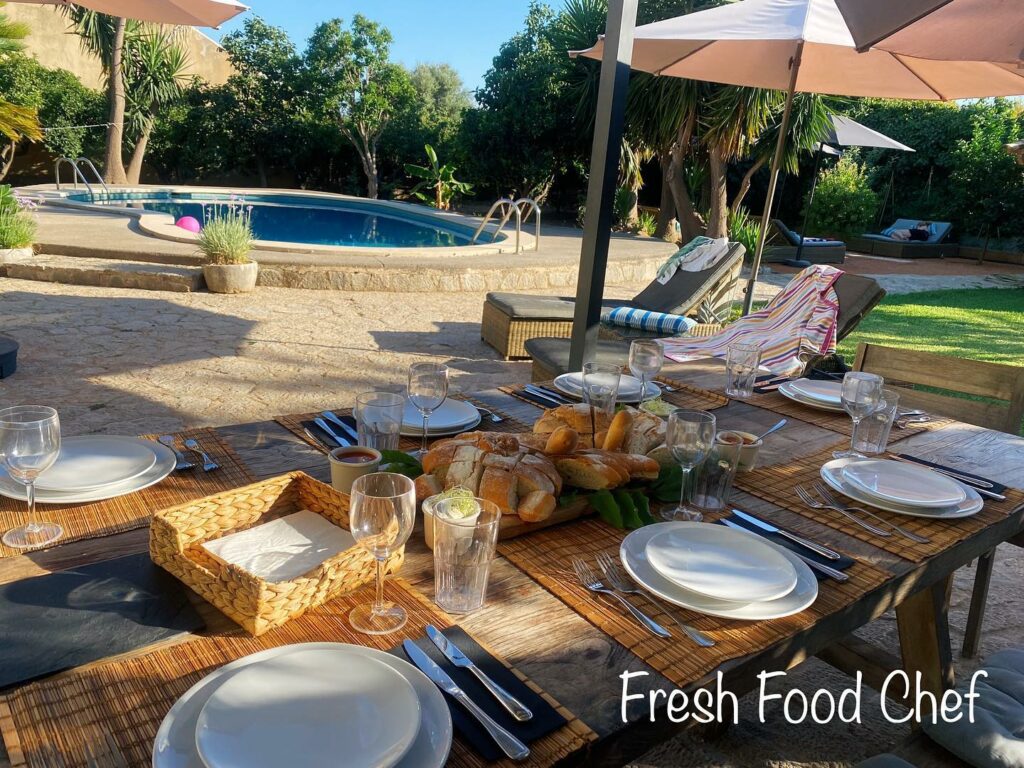 Delicious and hassle-free meals
With our villa prestocking service, you can send us your grocery list and we will stock your fridge with all the ingredients you need for your meals. You can also choose from our menu of prepared meals, or customize your own menu based on your dietary needs and preferences.
What meals can we prepare for you?
Our prepared meals service is perfect for those who want to enjoy healthy, nutritious and delicious food without spending hours in the kitchen. You can choose from a variety of dishes, including vegetarian and gluten-free options, and we deliver them to your villa or apartment in Mallorca ready to heat and serve. Whether you are looking for a quick lunch, dinner, or special treats, our prepared food service has got you covered.
In addition to our lunch and dinner options, we also offer breakfast or brunch buffets for those who want to start their day with a delicious and hassle-free meal. You can enjoy a variety of breakfast dishes. The first meal of the day can include all your favorite ingredients. From sweet pastry to fresh baked eggs, fruit salad, freshly baked pastries,avocado, smoked salmon, yogurt, and more, all prepared with the same high-quality ingredients and attention to detail as our other dishes. Tell us what you would like in your breakfast menu and we will take care of it. Let us take care of all your meals so that you can relax and enjoy your time in Mallorca.
We also offer lunch packs for your outdoor activities in Mallorca, such as picnics, beach days, or hikes, making it easy for you to enjoy a tasty and healthy meal while you are on the go. Our foodboxes are perfect for special occasions, such as holidays and retreats, providing you with a selection of freshly prepared dishes to share with your family and friends.
At Fresh Food Chef, we are committed to providing you with the best food and service during your holiday in Mallorca. Contact us today and let us take care of your meals, so you can relax and have fun without worrying about cooking or grocery shopping.
What our clients say about our prepared meals
Let us take care of your meals, so you can relax and have fun during your stay in Mallorca