Indulge in dining delights in Mallorca with our in-villa chef service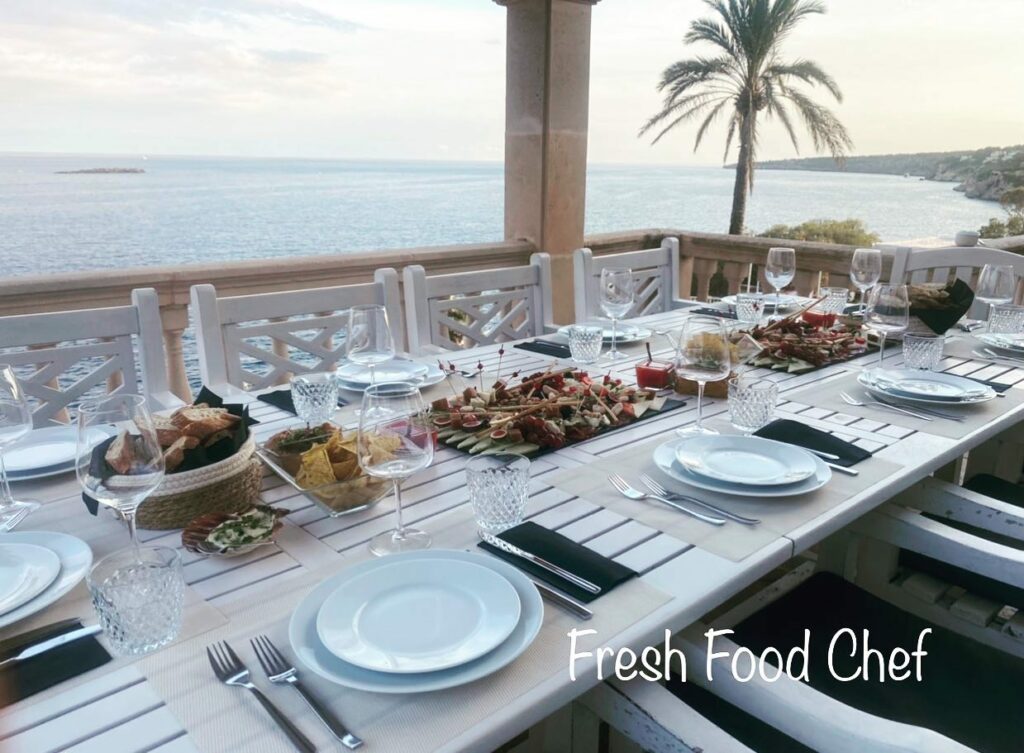 Hassle-free dining experience
Our in-villa chef service is designed to provide you with a hassle-free dining experience in the comfort of your own villa in Mallorca. If you are on holiday or living in Mallorca, when you look for a delicious meal (breakfast- brunch- lunch- dinner) combined with an amazing service you can contact us. 
We understand that you may want to enjoy your time in your villa without worrying about the inconvenience of spending hours doing groceries and cooking or taking the car to go out for a meal. Save yourself the hassle of looking for a suitable restaurant if you are with a bigger group… or taking little children to a place to eat where they need to sit for hours. That's why we offer a range of dining options to suit your taste and budget. From mallorcan home cooking to exquisite gourmet cuisine, we will prepare the finest dishes using the freshest and highest quality ingredients.You tell us what you want and we make it!
Many people ask us for menus, but we don't work with set menus. Instead, we create a customized menu for every client. Some dishes are so popular that certain themes frequently return, such as our Paella Night, Tapas Night, Barbecue Night, and of course, Spanish/Mallorquin dishes. We use only local ingredients to prepare all our dishes.
What we do as a private chef in Mallorca
We take care of everything for you, from shopping for the ingredients, to preparing and cooking the food, setting the table, serving, and cleaning up afterwards. Our in-villa dining menu offers a wide range of options to choose from, or you can customize your own menu to suit your preferences. Dietary restrictions are naturally no problem for us as long as we know it in advance.
Our private chef service is the perfect choice for a relaxed holiday in Mallorca with your family or friends. You can avoid the hassle of driving, parking, waiting in lines, and tipping, and simply enjoy the luxury of being served in the comfort and privacy of your own villa. We create your private restaurant at home. Together we make a suitable menu based on your food preferences. Besides food we also can arrange a wine tasting in the comfort of your own house and/ or we take care for a professional cocktail bartender. If you want we also take wines that suit the diner, just let us know and we will make the perfect match from food and wine. 
Whether it's a romantic dinner for two or a special celebration with a group of friends, our in-villa chef service is the best way to experience the finest food and service without leaving your holiday home. 
What our clients say about our private chef service in Mallorca
Contact us today and let us take care of everything while you sit back, relax and indulge in a culinary adventure that you won't forget.